Recent talks in Leeds & Marburg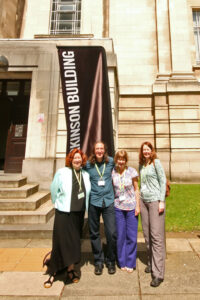 Members of the project team shared recent work arising from the project during the summer. Jane Cartwright organised a session on saints in Wales for the International Conference of Medieval Studies in Leeds, and gave a paper along with colleagues Martin Crampin and Jenny Day.
Jane was also invited to the University of Marburg in Germany to address an audience of scholars working on medieval texts as well as Celtic Studies. She spoke about her work on the Middle Welsh Life of St Ursula, Hystoria Gweryddon yr Almaen, as well as the volume on the international cult of St Ursula that has just been published by the University of Wales Press.