Welsh Saints from Welsh Churches
The imagery of saints was once commonplace in all churches in Wales, and by the fifteenth and sixteenth centuries painted and carved images of local and international saints would have been found on altars, screens, on the walls and in glazed windows of churches. Larger standing figures would have also been a feature of medieval churches, and these were probably the first images to have been removed and destroyed at the time of the Reformation.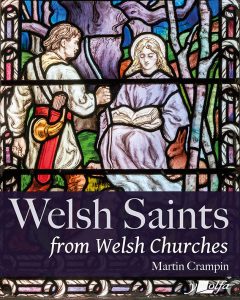 Although some images of saints do survive from the late Middle Ages, very few can certainly be identified as Welsh saints, and the imagery of Welsh saints that can be seen in churches today mostly dates from the end of the nineteenth century and the twentieth century. These images are mainly in the form of stained glass and sculpture, and their story is told for the first time in a new book published in 2023.
Hardly any of this imagery has been studied or published before, and the book provides an opportunity to compare the imagery of different saints, with around 580 illustrations. Standing figures of saints sometimes include references to the Lives of the saints, and additional scenes sometimes show episodes from these stories.
Welsh Saints from Welsh Churches provides an introduction to Welsh saints, a chronological overview of the imagery, and the use of iconography. This is followed by collections of images of around forty male and female saints from churches across Wales, demonstrating the way in which different saints were portrayed by different artists over the decades.
The book is available from the publisher, Y Lolfa for £35. Spreads from the book can be seen here.
ISBN 978-1-912631-16-2
256 + xvi, hardback