Seintiau Cymru, Sancti Cambrenses
Cyfrol o ysgrifau sy'n cynnwys cyfoeth o ymchwil newydd ar wahanol agweddau ar lenyddiaeth yn ymwneud â'r seintiau yng Nghymru, hagiograffeg, barddoniaeth ac achyddiaeth.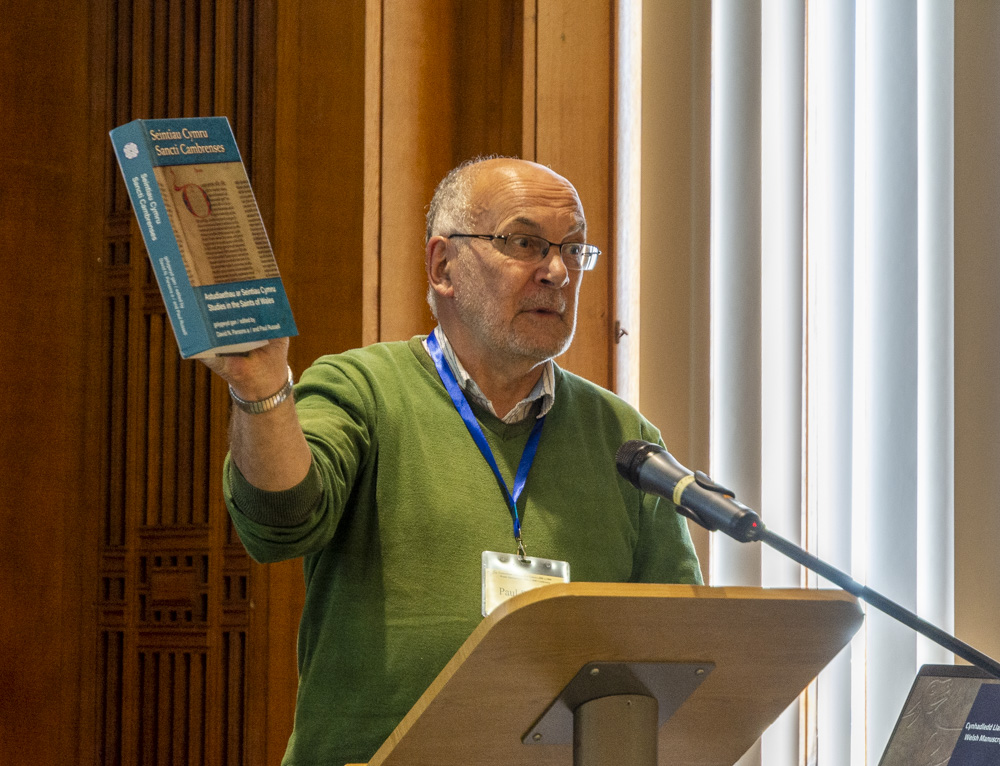 Mae Seintiau Cymru, Sancti Cambrensis: Astudiaethau ar Seintiau Cymru, Studies in the Saints of Wales wedi ei golygu gan David Parsons a Paul Russell a'i chyhoeddi gan Ganolfan Uwchefrydiau Cymreig a Cheltaidd Prifysgol Cymru. Mae'n cynnwys un ar bymtheg o benodau yn y Gymraeg a'r Saesneg gan aelodau'r ddau brosiect AHRC yn ogystal ag ysgolheigion eraill a gyfrannodd at y gynhadledd 'Vitae Sanctorum Cambriae / Lives of the Welsh Saints' yng Nghaer-grawnt yn 2019. Lansiwyd y gyfrol yn y gynhadledd 'Llawysgrifau Cymru' a gynhaliwyd yn y Llyfrgell Genedlaethol ac a oedd wedi ei threfnu ar y cyd rhwng y Ganolfan Uwchefrydiau a'r Llyfrgell i ddathlu cyhoeddi A Repertory of Welsh Manuscripts and Scribes, c.800–c.1800 gan Daniel Huws.
Ben Guy, 'The Vespasian Life of St Teilo and the Evolution of the Vitae Sanctorum Wallensium'
Joshua Byron Smith, 'The Legend of Saint Brendan in Cotton Vespasian A.xiv'
Andrew Rabin, 'Crime, Law, and the Justice of the Saints in Medieval Welsh Hagiography'
Barry Lewis, 'Approaching the Genealogies of the Welsh Saints'
Paul Russell, 'Translating Saints: the Latin and Welsh Versions of the Life of St David'
Jenny Day, 'The Later Lives of St David in NLW MSS Peniarth 27ii, Llanstephan 34 and Peniarth 225'
Sarah Waidler, 'A Welsh Hagiographical Export: The 'Irish Recension' of the Life of St David and the Cult of St David in Ireland'
Martin Crampin, 'A Dove at his Ear: Imaging St David'
Jenny Day, 'The later Lives of Mary of Egypt in NLW MS Llanstephan 34 and Cardiff, Central Library MS. 2.633'
Jane Cartwright, 'The Welsh Versions of the Life of Gwenfrewy'
Ann Parry Owen, ' "Canu" Beirdd y Tywysogion i'r Saint'
David Callander, 'Agweddau ar Naratif a Strwythur y Cerddi Cymraeg i'r Seintiau'
Francesco Marzella, 'Gerald of Wales and the Life of St Caradog'
Thomas Clancy, 'St Cadog in Scotland'
Paul Russell, 'The Afterlives of St Melangell (alias Monacella)'
Martin Crampin, 'The Imagery of Saints in Medieval Wales'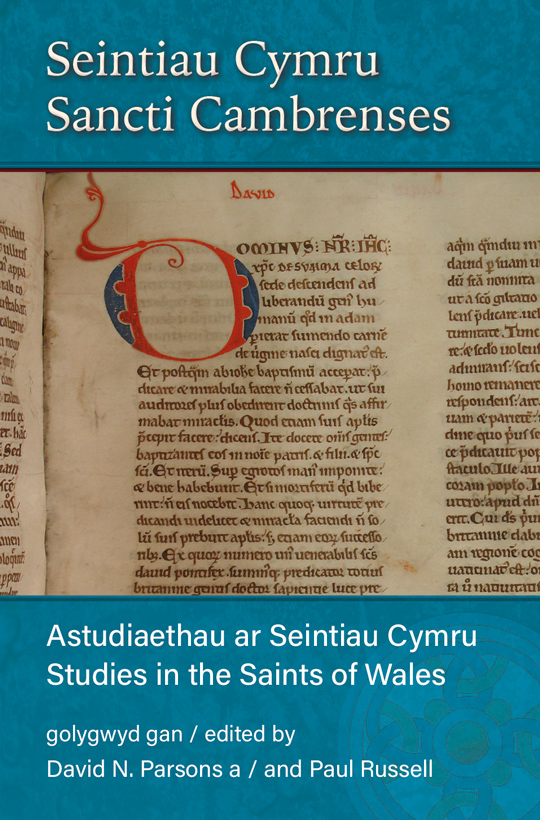 Mae'r llyfr ar gael i'w archebu am £25.00
ISBN 978-1-907029-32-5
394tt + xxiv, clawr caled