Stories of the Saints Exhibition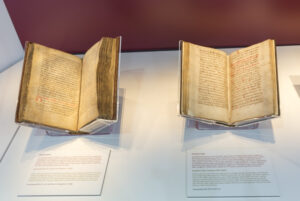 An exhibition of medieval manuscripts containing lives and genealogies of the saints, and poetry addressed to them, was held at the National Library of Wales from 18 February until 10 June 2017. The exhibition demonstrated the survival of medieval traditions about the holy men and women who represent an important part of the country's cultural inheritance.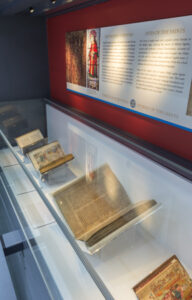 In the Middle Ages, saints were called upon for healing and protection, and for their help in achieving eternal salvation. Their images and relics were found in the churches in which they were venerated and visited by pilgrims.
Medieval Welsh hagiography preserves a wealth of tradition concerning local saints in Wales, as well as saints known across the Christian world. According to these traditions, saints performed miracles, fought with giants and monsters and raised the dead; they were also often prepared to die for their faith. Prose Lives and poems were written in Latin and in Welsh, and those that survive allude to other lost narratives, and sometimes attempt to make sense of conflicting traditions. Genealogical texts list saints by their relationships to each other, and include the names of many saints about whom we know almost nothing.
The exhibition featured some important medieval Welsh manuscripts, such as the Hendregadredd, the Book of Llandaf, and the Llanbeblig Hours, alongside some early modern recusant manuscripts containing late medieval saints' Lives and poetry. These Medieval Welsh texts preserve a wealth of tradition concerning local saints in Wales, as well as saints known across the Christian world.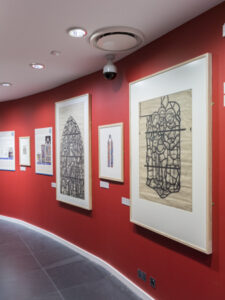 In addition, further visual material from the collection of the National Library of Wales was added around the walls of the gallery. This included paintings of St David by Hugh Williams and Evan Walters, and designs and cartoons of stained glass windows of saints by Celtic Studios, A.L. Wilkinson and John Petts. The exhibition also included photographs of medieval images of saints in paint, stained glass and sculpture from churches around Wales.
Members of the project team also supported the exhibition with lunchtime lectures and gallery talks.
List of Manuscript exhibits
Moliant i seintiau Brycheiniog / In praise of the saints of Brycheiniog (Huw Cae Llwyd), Peniarth MS 54i (c. 1480)
Canu Tysilio Sant / Song to St Tysilio (Cynddelw Brydydd Mawr), MS 4973 B (c. 1620–34)
Seintiau Enlli / The Saints of Enlli (Hywel Dafi; Tomas Celli), Llanstephan MS 47 B (c. 1600)
St Dwynwen of Llanddwyn, Peniarth MS 55 A (c. 1500)
Buchedd Lawrens / The Life of St Lawrence, Llanstephan MS 34 B (1580 × 1600)
The 'De Grey' Hours, MS 15537 C (c. 1450)
Vita S. Teliaui / The Life of St Teilo, MS 17110 E, The Book of Llandaf (first half of the twelfth century)
Llanbeblig Book of Hours, MS 17520 A (1390 x 1400)
Buchedd Dewi / The Life of David, Llanstephan MS 27 C, The Red Book of Talgarth (c. 1400)
Canu i Ddewi / Song to St David (Gwynfardd Brycheiniog), MS 66080 B, The Hendregadredd Manuscript (c. 1300, Strata Florida)
Bonedd y Saint / Lineage of the Saints, Llanstephan MS 28 B (1455–6)
1567 Book of Common Prayer, W.d.1646
Buchedd Gwenfrewy / The Life of Winefride, Peniarth MS 225 B (1594–1610)
Ffynnon Gwenfrewy yn Nhreffynnon / St Winefrede's Well at Holywell, Peniarth MS 112 D (1609–21)
A cywydd to Beuno (Rhys Goch Eryri), Peniarth MS 120 E (c. 1696–7)
Thomas Pennant, A Tour in Wales, PD9867 (1784)