Visualizing the Saints of Wales
We are delighted to announce a new year-long project bringing the work of the 'Cult of Saints in Wales' and the 'Vitae Sanctorum Cambriae' projects to a wider audience. The 'Visualizing the Saints of Wales' project will create a new digital interface with the ambition of transforming public engagement with research into the saints of Wales.
The previous AHRC-funded projects were devoted to the preparation of new editions of medieval Welsh and Latin texts on saints in Wales. 'Visualizing the Saints of Wales' is also funded by the AHRC and will be an online resource embracing two additional collections of material that will provide new perspectives on saints' cults in Wales.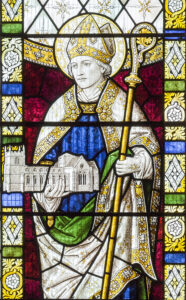 The first of these is an extensive collection of imagery depicting the saints found across Wales, from medieval wall-paintings to modern stained glass, and the second is the collation of recent research on the links between saints and places around Wales: connections in the form of place-names, church-dedications, holy wells and other landscape features, in addition to places and events described in the medieval texts.
This information has been included in the notes of the editions, but will be added to a database that records the links between each saint and places around Wales. This will enable the imagery to be searched and browsed and facilitate the exploration of the landscape of saints across the country, providing the tools for the creation of digital maps illustrating the localities associated with the saints. At all stages of their journey users will have the opportunity to move between and learn about different aspects of the resource, and answer questions about the saints venerated in certain areas, the changes in the depiction of saints over the centuries, the description of their landscapes in medieval texts, and the association of saints with other saints. At each step there will be references to original sources, including the medieval texts which were the focus of our initial research.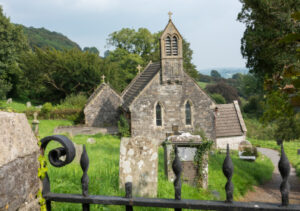 We will be integrating our data with the national collections of our partners, the Royal Commission on the Ancient and Historical Monuments of Wales. Their online collections are visited by more than half a million users every year, and reciprocal links between our resources will both enhance the Commission's material and provide further context for our new work on sites associated with saints with the built heritage in Wales. The project also builds on longstanding collaboration between the Centre and the Commission on Historic Place-names, and develops our pioneering research on visual culture in Wales.