Talk for Llandovery College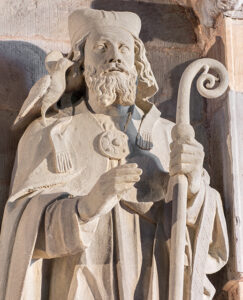 The most recent showing of our travelling exhibition came to an end on Saturday 12 March. Before packing away the displays I was asked to give a talk to year nine students from Llandovery College, who were visiting St Davids over the weekend. As well as using the exhibition as a visual aid to the talk, we also had the opportunity to look at some of the varied imagery of saints in the cathedral.
Earlier in the day the students had been given a short tour of the cathedral and returned in the afternoon rather muddier after a walk down to St Nons, where the ruined medieval chapel and the present Roman Catholic chapel now stand. Their time in the cathedral was facilitated by Janet Ingram, who had welcomed us to the Education and Pilgrimage Centre for our afternoon of talks on 29 February.