St David & Saints in Wales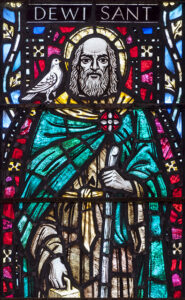 All of the project team were present at the most recent of our series of project events in St Davids on 29 February. Four talks in the afternoon at the cathedral's education centre, Tŷ Pererin, addressed medieval literature relevant to St David, place-names in Pembrokeshire and representations of David in modern stained glass.
Jenny Day, who is currently working on one of the unedited Welsh lives of David, discussed the differences between the extant Welsh lives, and the Latin life by Rhygyfarch. Ann Parry Owen spoke on the poem to David by Gwynfardd Brycheiniog, as well as discussing the various churches dedicated to David across south Wales, before Dafydd Johnston, Director of the Centre, read from Iolo Goch's poem to David.
David Parsons looked at some of the puzzles surrounding place-names in Pembrokeshire that contain – or seem to contain – the names of saints, and noted the high number of these around St Davids that referred to saints that have otherwise left no trace in the literary or historical record. Finally, I showed some examples of the many images of David that have been commissioned for churches in Wales, mainly in stained glass.
To round off the afternoon the historian Gerald Morgan joined us to introduce his new book Ar Drywydd Dewi Sant, only recently received from the publishers, and presented a copy to Bishop Wyn. For more information on the book please visit the publisher's website.