St Asaph, St Kentigern and the Saints of Wales
The project team enjoyed an opportunity to visit St Asaph Cathedral on 4 September 2018 to share the work of the project and present current scholarship on St Asaph and St Kentigern. David Callendar's recent work on the Life of St Asaph from the lost Red Book of St Asaph, which is transcribed in an early seventeenth century copy, and a neglected charter relating to St Kentigern, perhaps from the twelfth century, was of particular interest. Angela Kinney demonstrated the difficulties of transcribing and decoding medieval Latin saints' Lives, while David Parsons provided an linguistic perspective on hagiographical names. Two windows in the cathedral depict Welsh saints, and Martin Crampin spoke about the iconography of saints in the medieval and modern periods.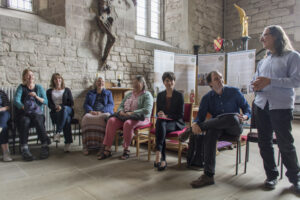 What we can say about saints in medieval Wales often seems to be outweighed by what we do not know. This is exemplified by the fact that the transcription of the Life of St Asaph is only partial: only the prologue and the founding of the church at St Asaph by Kentigern survives in the text, and the material concerning the life and acts of Asaph has been irretrievably lost.